Alexander Tschugguel Is The Forerunner To The Antichrist: He Addresses His Brazilian Followers And Weeks Later Bolsonaro Supporters Ransack Government Buildings
"A forerunner of the Antichrist, with his troops drawn from many nations, will wage war against the true Christ, sole Savior of the world; he will shed much blood and will seek to annihilate the cult of God so as to be regarded as a god." Our Lady of La Salette 19 Sept. 1846 (Published by Mélanie 1879)
Baron Alexander von Tschugguel aka Pachamama Slayer aka Forerunner to the Antichrist addresses his Brazilian followers on Twitter 8 December 2022 then Brazil loses in World Cup. Now weeks later more DOOM - Pelé dies and Bolsonaro cries and flees to Florida. And today Bolsonaro supporters storm and ransack Government Buildings. As I said before anywhere Alexander appears or sets foot all hell breaks loose.
Lula vows to punish Brazilian Congress invaders
Brazilian President Luiz Inácio Lula da Silva says perpetrators will be found and punished after supporters of Brazilian far-right ex-President Jair Bolsonaro stormed Congress. The dramatic scenes come a week after the left-wing veteran's inauguration. Supporters of Mr Bolsonaro - who refuse to accept that he lost the election - broke through police barriers in the capital, Brasília. Police used tear gas but failed to repel the demonstrators. Mr da Silva - better known as Lula - said there was "no precedent in the history of our country" for the scenes seen at Congress and at the Supreme Court. He called the violence the "acts of vandals and fascists". Protesters have smashed windows, while others reached the Senate chamber, where they jumped on to seats and used benches as slides. It is unclear if they are still in the building. Footage on social media shows protesters pulling a policeman from his horse and attacking him outside the building. Lima, a 27-year-old production engineer, said: "We need to re-establish order after this fraudulent election. "I'm here for history, for my daughters," she told the AFP news agency.
Many are drawing comparisons with the storming of the US Capitol on 6 January 2021 by supporters of Donald Trump, an ally of Mr Bolsonaro. Mr Bolsonaro's supporters are calling for military intervention and the resignation of Lula, who defeated his far-right rival in October's election. Many of them created camps in cities across Brazil, some of them outside the military barracks. That's because his most ardent supporters want the military to intervene and make good elections that they say were stolen. It looked like their movement had been curbed by Lula's inauguration - the camps in Brasilia had been dismantled and there was no disruption on the day he was sworn in. But Sunday's scenes show that those predictions were premature. Justice and Public Security Minister Flavio Dino called the invasion "an absurd attempt to impose [the protesters'] will by force". "It will not prevail," he wrote on Twitter. Leaders from Latin America have condemned the violence. Chilean President Gabriel Boric said Brazil has its "full support in the face of this cowardly and vile attack on democracy". Colombian President Gustavo Petro said "fascism has decided to stage a coup", while Mexican Foreign Minister Marcelo Ebrard said Mexico expresses "full support for President Lula's administration, elected by popular will". Lula is currently on an official trip in São Paulo state. In his inauguration speech, he vowed to rebuild a country in "terrible ruins". He decried the policies of his predecessor, who went to the US to avoid the handover ceremony.
Source
Brazilian soccer legend Pelé dies at 82
Sao Paulo, Brazil CNN — Pelé, the Brazilian soccer legend who won three World Cups and became the sport's first global icon, has died at the age of 82. "Everything that we are, is thanks to you," his daughter Kely Nascimento wrote in a post on Instagram, under an image of family members holding Pele's hands. "We love you infinitely. Rest in peace." Pelé was admitted to a hospital in São Paulo in late November for a respiratory infection and for complications related to colon cancer. Last week, the hospital said his health had worsened as his cancer progressed. He died on Thursday from multiple organ failure due to the progression of colon cancer, according to a statement from Albert Einstein Hospital.
Source
As Lula Becomes Brazil's President, Bolsonaro Flees to Florida
Pesident Luiz Inácio Lula da Silva is expected to take the reins of the Brazilian government on Sunday in an elaborate inauguration, complete with a motorcade, music festival and hundreds of thousands of supporters filling the central esplanade of Brasília, the nation's capital.But one key person will be missing: the departing far-right president, Jair Bolsonaro. Without him, there will be no ceremonial passing of the presidential sash on Sunday, an important symbol of the peaceful transition of power in a nation where many people still recall the 21-year military dictatorship that ended in 1985. Instead, Mr. Bolsonaro woke up Sunday 6,000 miles away, in a rented house owned by a professional mixed-martial-arts fighter a few miles from Disney World. Facing various investigations from his time in his office, Mr. Bolsonaro flew to Orlando on Friday night and plans to stay in Florida for at least a month.
Source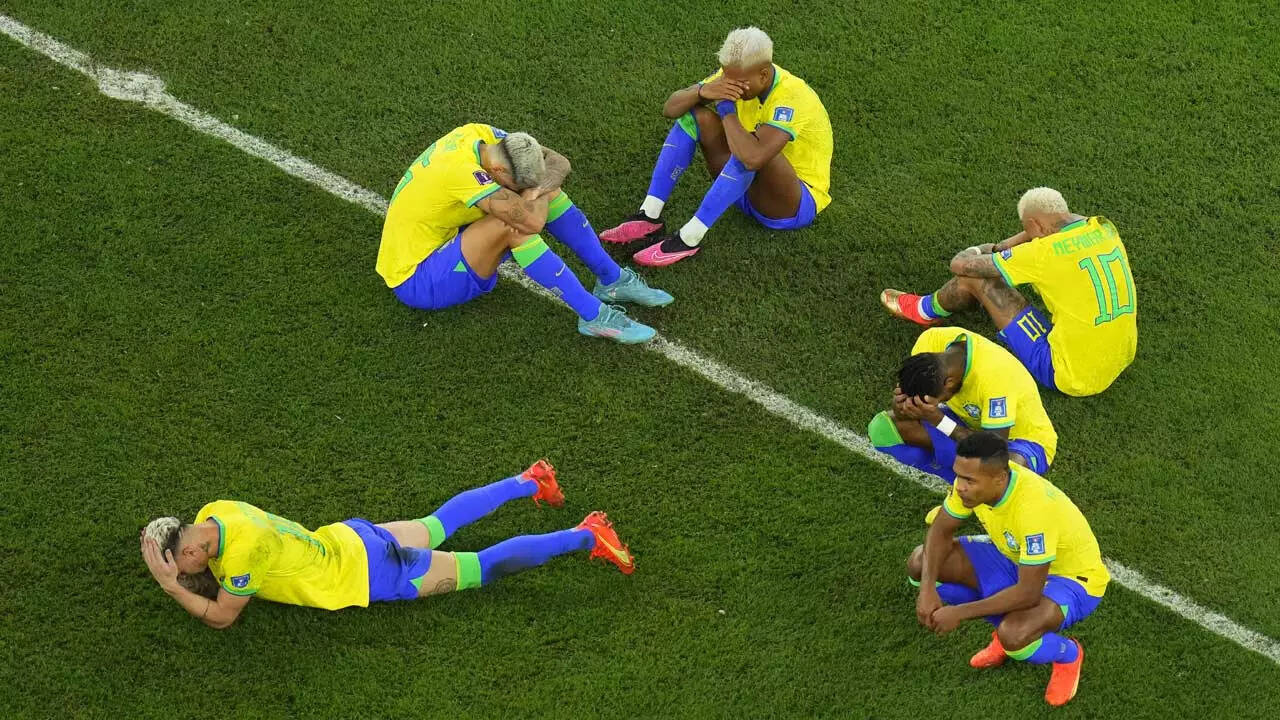 Remember how superstitious FSSP Rad Trads blamed COVID and all the other evils upon a dumb block of wood?
Are FSSP Rad Trads still blaming bad art for the worlds ills?
So who or what is to blame for Brazil's defeat at the World Cup?
A dumb block of wood or the manifestation of the Forerunner to the Antichrist - Baron Alexaner von Tschugguel?
Pachamama?
Alexander Tschugguel?
Two days prior to Brazil's defeat the Forerunner to the Antichrist addressed his believers in Brazil:
#BrazilianSpring 🇧🇷
My message to the brave Brazilian people fighting for freedom and truth.
May God guide you!

O povo unido jamais sera vencido!#BrazilWasStolen #SOSFFAA #catholicresistance@jairbolsonaro @MatthewTyrmand @FerCerimedo_ok @BolsonaroSP @realpfigueiredo pic.twitter.com/qekiKs6bIc

— Alexander Tschugguel (@ATschugguel) December 8, 2022
Maybe this is why Brazil lost, why Pelé died and why Bolsonaro cries and flees to Florida...
I would think that DOOM follows the Forerunner to the Antichrist wherever he goes....
FSSP FORMING THEIR OWN CHURCH
"Evil books will be abundant on earth and the spirits of darkness will spread everywhere a universal slackening of all that concerns the service of God. They will have great power over Nature: there will be churches built to serve these spirits. People will be transported from one place to another by these evil spirits, even priests, for they will not have been guided by the good spirit of the Gospel which is a spirit of humility, charity and zeal for the glory of God. On occasions, the dead and the righteous will be brought back to life. (That is to say that these dead will take on the form of righteous souls which had lived on earth, in order to lead men further astray; these so-called resurrected dead, who will be nothing but the devil in this form, will preach another Gospel contrary to that of the true Christ Jesus, denying the existence of Heaven; that is also to say, the souls of the damned. All these souls will appear as if fixed to their bodies)
Our Lady of La Salette 19 Sept. 1846
(Published by Mélanie 1879)
ARCHBISHOP VIGANO IS THE TWO FACE NAPOLEON:
LA SALETTE PROPHECY ON TWO FACE NAPOLEON:
"May the curate of my Son, Pope Pius IX never leave Rome again after 1859; may he, however, be steadfast and noble, may he fight with the weapons of faith and love. I will be at his side. May he be on his guard against Napoleon: he is two-faced, and when he wishes to make himself Pope as well as Emperor, God will soon draw back from him. He is the master-mind who, always wanting to ascend further, will fall on the sword he wished to use to force his people to be raised up.
Our Lady of La Salette 19 Sept. 1846
(Published by Mélanie 1879)
BARON ALEXANDER VON TSCHUGGUEL IS THE FORERUNNER TO THE ANTICHRIST:
LA SALETTE PROPHECY ON FORERUNNER TO ANTICHRIST
"A forerunner of the Antichrist, with his troops drawn from many nations, will wage war against the true Christ, sole Savior of the world; he will shed much blood and will seek to annihilate the cult of God so as to be regarded as a god."
Our Lady of La Salette 19 Sept. 1846
(Published by Mélanie 1879)
MARIE JULIE JAHENNY PROPHECY ON FSSP RAD TRADS:
"During the time of the approach of the punishments announced at La Salette,an unlimited amount of false revelations will arise from hell like a swarm of flies; a last attempt of Satan to choke and destroy the belief in the true revelations by false ones." Marie Julie Jahenny of La Faudais (d.1891)
PROPHECY OF MELANIE ON TWO POPES:
"I didn't see, I don't see any Great Pope or Great Monarch before an extremely great tribulation, horrifying, terrible and general for all Christendom. But before that time, twice there will be a short lived peace; TWO shaky, servile, doubtful popes" Mélanie
THIRTY FIVE YEARS OF CHASTISEMENTS
God will abandon mankind to itself and will send punishments which will follow one after the other for more than thirty-five years.
Our Lady of La Salette 19 Sept. 1846
(Published by Mélanie 1879)
LA SALETTE + FATIMA TIMELINE
1. Two Popes. (13 March 2013)

2. Manifestation of the Forerunner to the Antichrist (21 October 2019)

3. Death of Pope Benedict

(31 December 2022)

4. Death of Pope Francis the Last of the Two Popes (_ _/_ _/2023)

5 .NIGHT ILLUMINED BY UNKNOWN LIGHT DURING NEW MOON

(_ _ / _ _ / 2023)

6. Start of Thirty Five Years Worth of Chastisements

(_ _ / _ _ / 2023)

7. Rise of the Political Power of the Forerunner to the Antichrist

(_ _ / _ _ / _ _ _ _)

8. Creation of Forerunner's Nationalist Army

(_ _ / _ _ / _ _ _ _)

9. Persecution of the Catholic Church by the Forerunner and His Nationalist Army

(_ _ / _ _ / _ _ _ _)

10. Murder of Fatima Pope & Faithful on top a Steep Mountain by Forerunner and his Army.

11. The Rise of the Great Monarch & Great Pontiff (near the end of the 35 year Chastisement)

12. The death of the Forerunner to the Antichrist.
REMEMBER - THE 35+ YEARS WORTH OF CHASTISEMENTS DO NOT START UNTIL THE TWO POPES ARE DEAD......
"The great chastisement will come, because men will not be converted; yet it is only their conversion that can hinder these scourges. God will begin to strike men by inflicting lighter punishments in order to open their eyes; then He will stop, or may repeat His former warnings to give place for repentance. But sinners will not avail themselves of these opportunities; He will, in consequence, send more severe castigations, anxious to move sinners to repentance, but all in vain. Finally, the obduracy of sinners shall draw upon their heads the greatest and most terrible calamities. Mélanie
"We are all guilty! Penance is not done, and sin increases daily. Those who should come forward to do good are retained by fear. Evil is great. A moderate punishment serves only to irritate the spirits, because they view all things with human eyes. God could work a miracle to convert and change the aspect of the earth without chastisement. God will work a miracle; it will be a stroke of His mercy; but after the wicked shall have inebriated themselves with blood, the scourge shall arrive Mélanie
"What countries shall be preserved from such calamities? Where shall we go for refuge? I, in my turn, shall ask, What is the country that observes the commandments of God? What country is not influenced by human fear where the interest of the Church and the glory of God are at stake? (Ah, indeed! What country, what nation upon earth?) In behalf of my Superior and myself, I have often asked myself where we could go for refuge, had we the means for the journey and for our subsistence, on condition that no person were to know it? But I renounce these useless thoughts. We are very guilty! In consequence of this, it is necessary that a very great and terrible scourge should come to revive our faith, and to restore to us our very reason, which we have almost entirely lost. Mélanie
MARIA OF THE CROSS,
Victim of Jesus nee MELANIE CALVAT,
Shepherdess of La Salette
"I protest highly against a different text, which people may dare publish after my death. I protest once more against the very false statements of all those who dare say and write First that I embroidered the Secret; second, against those who state that the Queen Mother did not say to transmit the Secret to all her people." Mélanie