Forerunner To The Antichrist SALVINI Joins Forces With Bannon's European NATIONALIST Group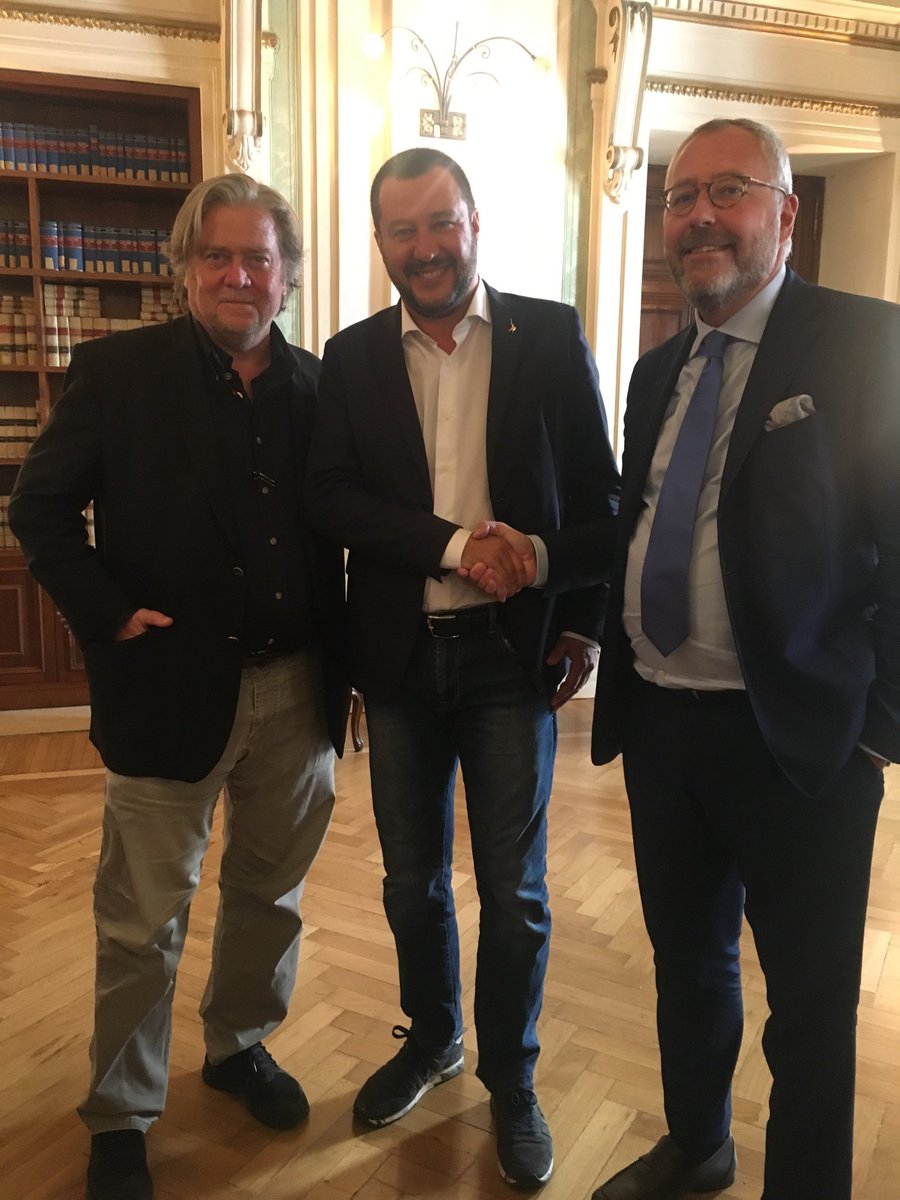 "A forerunner of the Antichrist, with his troops gathered from several nations, will fight against the true Christ, the only Saviour of the world. He will shed much blood and will want to annihilate the worship of God to make himself be looked upon as a God.
Our Lady of La Salette 19 Sept. 1846
(Published by Mélanie 1879)
Salvini's Nationalist Army is forming.....
Italy's Matteo Salvini joins Bannon's European populist group
Matteo Salvini, Italy's interior minister and populist leader, has met Steve Bannon and joined the anti-European establishment group, the Movement, founded by Donald Trump's former chief strategist. "He is in!" tweeted Mischaël Modrikamen, the Belgian politician and co-founder of the People's party, who is also a member of Bannon's group which unites Euroscepticand populist forces. According to Italian media, Bannon has suggested the upcoming European elections in 2019 could open the way for new populist movements to fight the influence of the German chancellor, Angela Merkel, and the French president, Emmanuel Macron. Sign up for Guardian Today US edition: the day's must-reads sent directly to you Read more The meeting in Rome on Friday follows recent talks between Salvini and the Hungarian prime minister, Viktor Orbán, another leader of European populism who shares an anti-migration stance. After their meeting, on 28 August, Salvini and Orbán claimed they were "walking down the same path" after discussing the formation of a common anti-migration front to oppose the policies of Macron. Bannon is not new to European politics, being close to Nigel Farage, the former Ukip leader, who has credited him with boosting the successful British campaign to leave the EU. The former White House strategist, who is a Catholic with ties to conservatives in the Vatican, had travelled to Rome in March to support Salvini before the Italian elections. Salvini, the leader of the rightwing party the League, governs in coalition with the anti-establishment Five Star Movement. On Wednesday, Bannon met another far-right Italian leader in Venice: Giorgia Meloni, the founder of the Brothers of Italy party who is close to Salvini and the former prime minister Silvio Berlusconi. "Italy has become a laboratory of European populism,'' said Massimiliano Panarari, a politics professor at Luiss School of Government in Rome. "The country risks moving away not only from Europe, but also from western democracies."
Source