Salvini's Long-Term Plan to Be Italy's DICTATOR.......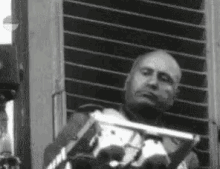 "A forerunner of the Antichrist, with his troops gathered from several nations, will fight against the true Christ, the only Saviour of the world. He will shed much blood and will want to annihilate the worship of God to make himself be looked upon as a God.
Our Lady of La Salette 19 Sept. 1846
(Published by Mélanie 1879)
Salvini's Long-Term Plan to Be Italy's Boss: Balance of Power
Matteo Salvini has become the dominant force in Italian politics — and is increasingly playing a role on the European stage – even as he shares power at home. But he's not yet ready to ditch his troublesome populist ally. The leader of the anti-migrant League is under pressure from his lieutenants to force an early election and seek to govern in his own right. While he has a spontaneous, homespun persona on the campaign trail, cheerfully posing for selfies, in private those close to him say he is cautious and strategic. He's playing the long game, they say. Senior government officials and party operatives spoke to Bloomberg about the strategy of the man known as "The Captain." The League's poll ratings have surged, and he can blame fellow deputy premier Luigi di Maio from the Five Star Movement for most things that go wrong. Salvini also needs time to set up a new center-right bloc without ex-premier Silvio Berlusconi, who's too much of an establishment figure. Events may test Salvini's patience, including May's European Parliament elections, and tensions within the coalition ahead of budget talks as the economy stagnates. For now, he's telling his advisers to hold tight — the League must not act like supermen. But for how long?
Source